Central Synagogue London
A brand new look and feel for the Central Synagogue in London. TICG have been working with the great team at the Central Synagogue in London…
TICG were asked to review the Central Synagogue old website and give it an entirely new online presence that works across all digital media platforms to serve their community.
After meeting with Central Synagogue's board, TICG was briefed on the requirements which included attracting new younger members with a current "look and feel", and be very easy to use for the older and more traditional members.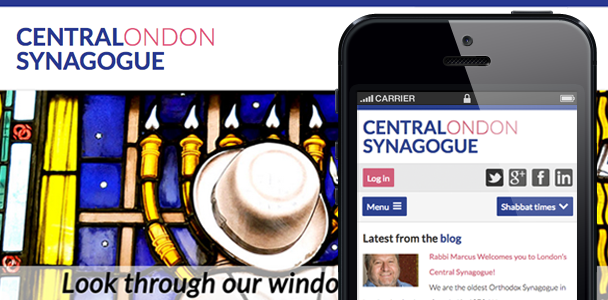 The website has many social and interactive aspects including event postings, photos, videos and of course full facebook, twitter and youtube integration. It also has very useful functions such as the ability to print a Shabbat friendly newsletter and also email this out to all of their members.
The Synagogue staff were fully trained in how to update the website themselves and are thoroughly impressed with their new website which is enabled to work across all platforms including all mobile devices.
The Internet Consultancy Group re-designed, develop a content management system for their website. TICG also provided support after the project completed which included further SEO consultancy and in house CMS training.
Project objectives:
A responsive website re-design to work across multiple platforms.
Search Engine Optimisation (

SEO

).
Adding blogs for members and enable comments.
Attract a younger audience and foreign visitors in London.
Integrate Social Media platforms – Facebook, Twitter etc.
Weekly eNewsletter system.
Central Synagogue London Website Design