Mobile & Responsive Design
With 60% of adult smart phone users having moved to mobile browsing within the last year TICG is aware of how essential a fully responsive website is across all devices and platforms.
Update: It is now official Google are saying you need to have a mobile site by April 21st, they are going to be ranking your site lower if you don't.
Your website should mirror the quality of your online presence and this must remain consistent across all media platforms to bring users the experience expected of any leading player on the web.
With the amount of devices currently on the market and with this figure set to rise over the coming years, responsive design is the new and most exciting kid on the technical block to reach the web today.
The benefits of responsive design are manyfold for both the client and the end user. Rather than having to develop sites to suit the multitude of resolutions and devices on the market, the website must respond to whatever platform the user is browsing on, providing a flexible mobile web solution that is designed to automatically resize and adapt according to the user's platform preference.
When adding new features and requirements to a website.... This one stop mobile web approach means the technical delivery is much faster and the user benefits from being able to switch from one device to another as their interest in the website grows, following a consistent navigational and visual experience.
A design from one of our latest projects with The Central Synagogue London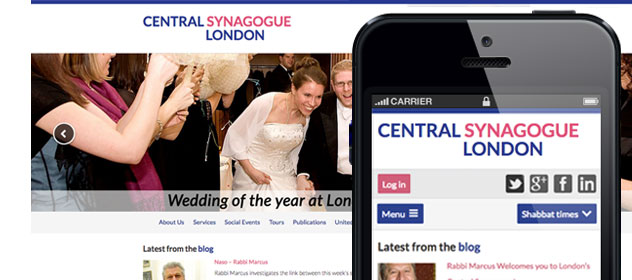 What are the benefits to responsive web design?
Here are just a few of the reasons why we recommend taking a responsive web design approach when building your website.
Future proof for other mobile devices down the road
A fluid user experience when moving from one device to another
Mobile viewers might convert more on an optimzed site
Dont need to manage and build multiple sites for multiple devices
Dont need to build a costly web app for Android, IOS etc
A clear and clean web design and user experience is an essential part of your online presence. TICG has an exceptional team of ex BBC designers and developers that are able to provide you with designs that reflect your business identity.
Our dedicated team of graphic designers, developers and SEO copywriters deliver accessible and highly professional web design with excellent visual appeal, outstanding navigation, good information architecture and great content.
All our websites are search engine optimised and are specifically designed to meet both the commercial needs of our clients and their user's needs. The design must engage the user throughout their experience on your website. This ensures return visits and optimum client satisfaction.